Online MBA Student Experience
Who Are Purdue Online MBA Students?
Our online students join us from a variety of backgrounds and locations. They bring diverse experiences in business, marketing, finance, human resources, engineering and more.
---
Underrepresented Minority
Join Our Global Community of Respected Professionals
When you earn the Purdue Online MBA, you become part of a respected, international network of students and alumni. Make valuable connections and enjoy an engaging and interactive learning experience—from wherever you are.
Where Do Purdue Online MBA Students Live?
Meet the Students
Check out our student success stories to learn what it's like to earn your MBA online from Purdue.
Kristin Zalewski
Risk and Compliance Manager
Google
Alameda, California

Purdue University alumna Kristin Zalewski chose the Purdue Online MBA program for its flexibility. As a working professional, the online program fit into her busy schedule and allowed her to continue working while she pursued her degree. "Earning my MBA will help me advance my career and reach my goals. I want to continue moving up the ladder and be able to be a mentor to women and girls in STEM specifically."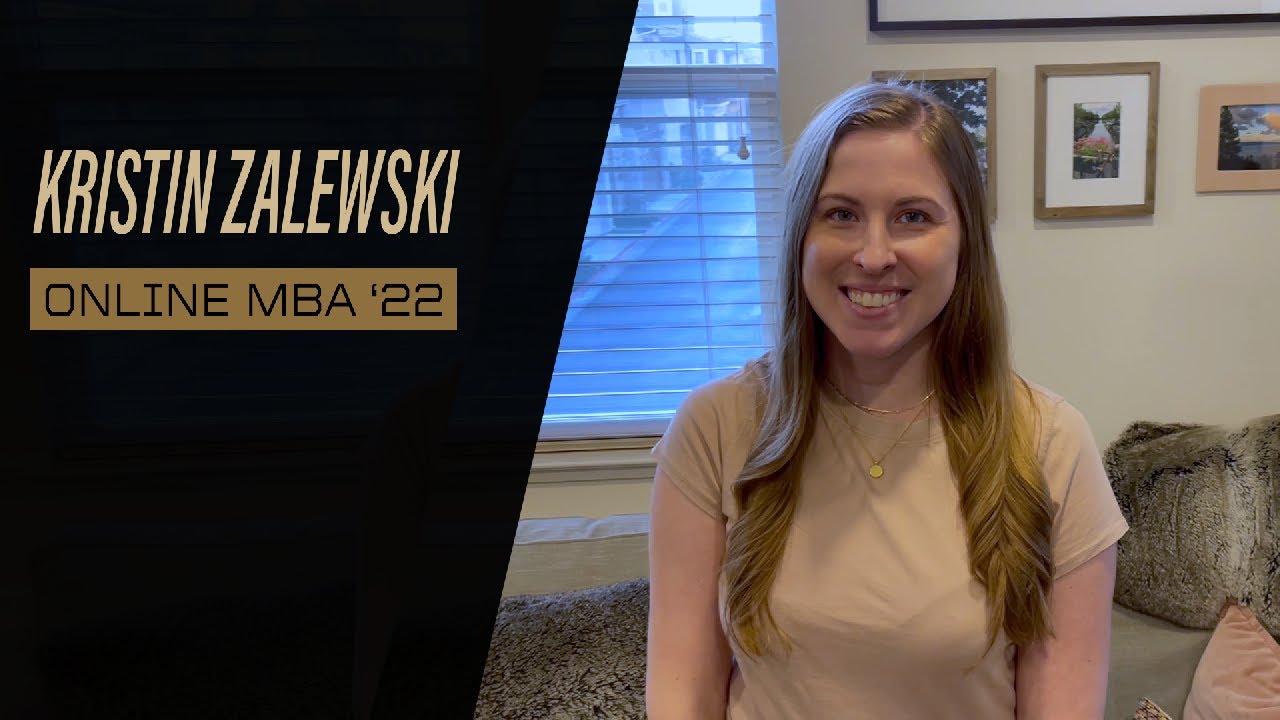 ---
Adam English
Vice President, Senior Financial Advisor
Merrill Lynch
Naples, Florida
Adam English earned his undergraduate degree from Purdue in selling and sales management, building a satisfying career as a vice president and senior financial advisor with Merrill Lynch in Naples, Florida.
"I think it's important to always educate and prove yourself, so I knew there was something I was missing," English says. "I always wanted to go to Krannert, so when the online MBA became available it was the perfect fit. It is teaching me valuable skills to be a more informed business leader and to be competitive today and in the future."
For an online program in the time of COVID-19, English says the network he is building is impressive and diverse. "I think it's important to make connections with people from different backgrounds and industries," he says. "It allows us to pool resources and talents."
English describes the program as "tough" but says the coursework is already making an impact. "Working in a cohort has given me the opportunity to further develop my existing skills," he says. "I've also increased my understanding of business analytics and accounting."
Although English intends to remain in his current role with Merrill Lynch, he says the Purdue Online MBA will help him build and manage his team in a changing business environment. "I'm in a better position to grow as a leader," he says.
---
Matthew Kern

Operation Leadership Development Program
Lockheed Martin
Atlanta, Georgia
Matthew Kern, who recently completed his bachelor's degree in industrial engineering from Bradley University, is completing his second rotation in Lockheed Martin's Operation Leadership Development Program (OLDP) while pursuing his Purdue MBA online.
Among the youngest member of his cohort, Kern is learning on two fronts — his first post-college job and the virtual realm of online education.
"A lot of people say, 'Wait five years to go back to school.' That was always something that I had thought about, too," Kern says. "While I was in the OLDP program, however, I saw many of my peers doing it — going through an MBA program and excelling. I am also very ambitious and devoted to my career. Now is the time that I want to spend to earn an MBA and get the best experience as possible, rather than waiting five years when family and other things start to happen in my life."
"I pursued the Purdue Online MBA to expand my knowledge of leadership and business, to develop meaningful relationships and to open new doors and opportunities," he says. "Purdue offered those opportunities to me and I have alumni in my family who spoke highly of the University."
One of his earliest lessons in the program was balancing his work life at Lockheed Martin with his student life in the Purdue Online MBA program.
"I think the best thing is time management. When I get home from work, I don't have much bandwidth other than to eat, hopefully work out and go to bed. Then I get back up at 4:30 in the morning," Kern says. "A lot of my time now is spent on weekends doing schoolwork. That's where the Purdue program has been so helpful for me — the flexibility. I truly could not be in a course right now that would require me to be sitting in a classroom twice a week."
Current Students' Career Experience
Upon starting the program, Purdue online MBA students average 8 years of professional experience across a wide range of industries. In your courses, you'll collaborate and network with peers working in positions such as:
Account executive
Business analyst
CEO
Controller
Director of finance
Director of human resources
Director of operations
Engineer
Global finance business partner
Head of partnership development
Marketing manager
Operations management lead
Programmer
Project manager
R&D engineer
Senior manager information security